Food at the Grapevine
We've introduced a new food experience to Dalkey with our delicious food menu to complement our range of fine wines. Enjoy some lunch, tapas-style dishes or evening dining.
Our food is served Wednesday to Sunday. (insert times). Please also check in-store for our lunch and evening specials
For reservations please call: (01) 235 3054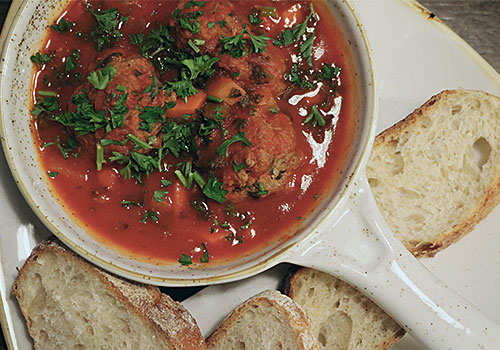 Snacks
Bread and Extra Virgin Olive Oil €2.95
Smoked Almonds  €3.95
Olives – marinated in garlic, chilli & olive oil €4.95
Small Plates
Patatas Bravas €4.95
Fried, cubed potato with spicy sauce
Padron Peppers €7.95
Spanish fried green peppers
Calamari €8.95
Deep fried squid with aioli and lemon
Arancini €8.95
deep-fried rice balls with mozzarella, tomato sauce
Bresaola Salad €8.95
Air-dried, thinly sliced beef served with rocket salad, parmesan, lemon dressing
Mushrooms with Cream, Truffle, Herbs €10.95
Served on toasted sourdough
Deep Fried Camembert €8.95
Served with salad and honey
Bruschetta €8.95
Sourdough toast with fresh heirloom tomato, olive oil and basil €8.95
Burrata with Parma Ham €11.95
Soft and creamy Italian cheese served with parma ham and salad
Prawns Pil Pil €11.95
Chilli and garlic prawns served sizzling with sourdough bread
Chicken Liver Paté €8.95
Served with brioche toast, relish and walnuts
Meatballs €9.95
Served in spicy tomato sauce
Chorizo & chick peas €9.95
With spinach and fresh herbs, served with crusty sourdough
Clonakilty black pudding, parsnip crisps €8.95
Served with crusty sourdough
Pasta and Rice
Risotto with Mushroom and Truffle (please allow 20mins) €16.95
Rigatoni with prawns, garlic, chilli, tomato sauce €16.95
Tagliatelle with chicken, mushroom, cream sauce €16.95
Tortelloni with Ricotta & Spinach, Gorgonzola, walnuts €16.95
Tagliatelle with Meatballs, tomato sauce €16.95
Sharing Platters
Cheeseboard €14.95
A selection of Irish and international cheeses, with chutneys, bread & crackers
Charcuterie Board €14.95
A selection of cured meats and salamis, served with olives, peppers and sourdough
Grapevine Board €21.95
Our signature dish – a large sharing platter of cheese, charcuterie, chutney, bread and crackers.
Dessert
Affogato €5.50
Vanilla ice cream with a shot of espresso
Crème Brulee €5.50